Kanya Maha Vidyalaya (Autonomous) – Best College of Jalandhar (Punjab) , the pioneer institution of women education, has long been recognised as a premier centre of higher learning for women in North India. Re-accredited "A" by NAAC (National Assessment and Accreditation Council, Bangalore), the college strives ceaselessly to emancipate, enlighten and empower women. Education at K.M.V. is a unique amalgam of traditional learning and futuristic vision.
Committed to preserving our rich cultural legacy and traditional values, the college harmoniously blends tradition and modernity to create an ambience conducive to the holistic development of an individual's potential. The rich tradition of patriotic ideals and commitment towards high moral values make K.M.V. the prototype of value education.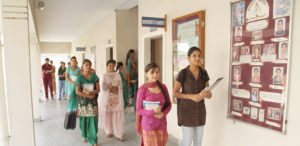 Through 135 eventful years of its existence, Kanya Maha Vidyalaya – Top College of Jalandhar (Punjab) has striven ceaselessly to expand landscapes of learning. Keeping pace with the changing times, the college offers courses that help develop individual skills, knowledge and creativity for a wide choice of career opportunities. The college offers diverse programmes at undergraduate level in the areas of Humanities, Science, Commerce and Computers; and Post Graduation in English, Hindi, Music, Computer Science, Information Technology, Information & Network Security,Commerce, Mathematics, Economics and Physics. In addition, the college offers Honours in Mathematics, Physics, Economics, Political Science, History, Psychology, English, Hindi and Punjabi. With the world of work in mind the college has blended these conventional courses with career oriented Diploma courses in Counseling, Computers, Textile Designing and Fashion Designing. Professional Courses like B.Sc. in Bio-Technology and Honours School in English are among its strengths. What makes K.M.V. the first choice among students is the quality education being imparted by our highly qualified and motivated faculty.
Kanya Maha Vidyalaya – Best College of Jalandhar (Punjab), creates women who change the world. Epitomising and synthesising old values with modern education, K.M.V. women have a heightened awareness of their productive role in society. Endowed with holistic belief they venture into the world as highly competent and creatively confident individuals, fine tune their professional skills and expertise to meet the requirements of the world and carve a niche for themselves.
The college lays emphasis not only on academic excellence but also on shaping the diverse talents of our students. For this the college provides unusually rich and vibrant cultural life, outreach initiatives and civic engagements. We excel in sports also. The college has a sustained record of excellence in academic, co-curricular and sports activities and is constantly stretching its arms towards new areas of perfection.
The college, which is located in a beautiful 27 acre campus far away from the madding city crowds of Jalandhar, has approximately 2500 students, over 120 faculty, administrative and support staff. The peaceful environment of the college houses an impressive infrastructure consisting of Ultra Modern Science Labs, State-of-the Art Computer Labs, Conference Room with Audio-Visual Aids, Fully Automated Library, Functional Language Lab, Health Club and a Hostel with a fully Mechanised Kitchen.
Kanya Maha Vidyalaya – Top College of Jalandhar (Punjab) with its selfless services towards empowering women continues to lead from the front. It is the only institution from North India to have been selected by the Ministry of HRD for the production of documentary films on leading institutions of women education in India. Lauding the Vidyalaya's effort in imparting quality education, the chairperson of NAAC strongly recommended the elevation of the college to the status of deemed University. The college is poised to fulfil the dreams of its founding father and scale unprecedented heights.